World Water Day observed at Kargil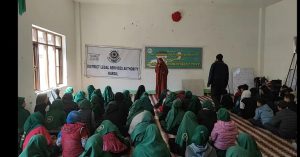 Kargil, March 22, 2023: Mutahhary Public School PD in collaboration with District Legal Services Authority, Kargil organized a water conservation program on the occasion of World Water Day. The event was hosted by volunteer members of DLSA.
Students actively participated in the event and responded with great enthusiasm and passion to the questions asked by the organizers regarding water conservation and sources of water in the region.
Science teacher Zakiya Banoo and Physical Education Teacher Hassan Khan delivered a speech on the importance of World Water Day and the conservation of water.
The school management extended heartfelt appreciation and gratitude to the DLSA Kargil for selecting the school for the awareness program and also hoped to collaborate in the future for such programs in future.