World No Tobacco Day observed in Leh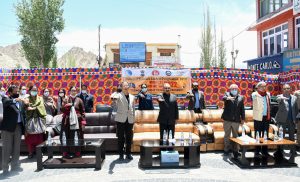 Leh, June 1: Health Department Leh in collaboration with Ladakh Film Society observed World No Tobacco Day with the theme 'Tobacco: Threat to our Environment'. Students from various schools in Leh held an awareness procession/rally against the ill-effects of consuming tobacco. The rally was flagged off from SBI Bank to the main market by Principal Secretary, Dr. Pawan Kotwal (Chief Guest).
Addressing the rally Dr. Pawan Kotwal talked about the ill-effects of passive smoking, he talked about the importance of Cigarettes and Other Tobacco Products (Prohibition of Advertisement and Regulation of Trade and Commerce, Production, Supply and Distribution) Act, 2003 or COTPA. He said it's a powerful act which made a big difference and improved the tobacco menace which affected even non-smokers. He further added that substance abuse is a serious challenge and this menace can be tackled with the collective efforts of all stakeholders/experts including Tobacco Control Society of Ladakh, Health Department and NGOs. He stressed on the proper need of de-addiction centers in Ladakh and said that the Administration is working on it.
At the event, an Anti-Tobacco Pledge was also administered to the participants, wherein the participants swore to not use tobacco and prevent use of tobacco to protect the environment. Students from Islamia Public School; Moravian Mission School, Leh; Delhi Public School, Leh presented skits/drama, poetry, and songs against drug abuse and ill-effects of tobacco. Artists from Ladakh Film Society also presented an awareness drama and songs sensitizing on the harms of tobacco. The students and Ladakh Film Society also highlighted the theme that 'tobacco is a threat to environment' as tobacco also contributes to pollution and stressed the need to protect an ecologically fragile place like Ladakh from tobacco pollution.
The event was also attended by Dr Tsering Norboo (Guest of Honour); Dr. Morup Dorjey (Director Health Services); Dr. Norzin Angmo (CMO, Leh); Dr. Padma Angmo (Psychiatrist) Phuntsok Ladakhi (Ladakh Film Society); various NGOs working in Health Sectors of Ladakh; NCD officials; school students from various schools and other concerned officials.