Workshop on traditional music concludes at Bodh-Kharboo Events for promotion of cultural tourism in Bodh-Kharboo, other parts of Kargil in pipeline: EC Mohsin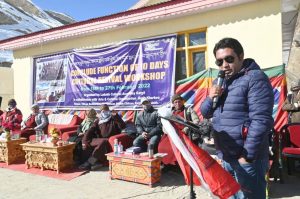 KARGIL, FEBRUARY 27, 2022: A ten-day-long traditional music, Daman and Surna training/workshop organized by Ladakh Academy of Art, Culture and Languages (LAACL) Kargil in collaboration with Art and Cultural Organization at Bodh Kharboo village concluded today.
Executive Councilor Health, Mohsin Ali was the chief guest on the occasion. Chairperson BDC Shakar Chiktan, Sayeda Banoo, Sarpanchs, Panchs, senior citizens, workshop instructors, trainees, folk artists and cultural enthusiasts were also present on the occasion.
Speaking on the occasion, EC Mohsin on behalf of LAHDC Kargil congratulated the LAACL Kargil for conducting the workshop in Bodh-Kharboo area.
He said that such workshops are need of the hour and this initiative will go a long way to preserve folk music. He said LAHDC is fully committed to extending all support to the LAACL Kargil in organizing such cultural programs in the future.
Mohsin said due to Covid-19 restrictions this year, many cultural activities were put on hold and assured that next year, many cultural activities will be held at a larger scale.
He also extended gratitude to Art and Cultural Organization of Bodh- Kharboo for extending support to Ladakh Cultural Academy Kargil in organizing this event.
EC Mohsin also expressed satisfaction over the presentation of folk songs, Daman and Surna tunes by the trainees. He said these presentations reveal that the trainers, as well as trainees, have pursued the training program with utmost dedication and sincerity.
The EC said that there has been a remarkable change in all sectors after the formation of Ladakh as a Union Territory and a number of events for the promotion of cultural tourism in Bodh-Kharboo and other parts of the district are in pipeline.
He also urged the youth to come forward and take benefit from such programs and know about their folk songs and folklore which are a treasure of the glorious past of Purig area.
Addressing the concluding session, Tsewang Rigzin, a cultural expert, welcomed the guests and people of the village. He said history, culture, folklore, dress and customs are an identity of every community and it is important for the young generation to learn it.
Rigzin further said that the workshop was aimed at protecting, teaching and popularizing the local folk songs, music and musical instruments among youth. He also said that such workshops will be held in other parts of the district as well.
Later, the participants of the workshop said it provided them an opportunity to know their rich history and cultural traditions that have a great significance in the present era.
The workshop trainees, folk artists of Purgi, Balti, Darchicks- Garkon, Wakha-Mubekh, Bodh-Karboo presented solo and group-based folk songs which enthralled the audience.
More than 40 trainees from Bodh-Kharboo and adjoining villages participated in the workshop and were given training about the nuances of folk tunes and songs.
Various traditional cuisines including Marzan, Papa, Sku, Yos, Phating, Tantur, Oma, Timok, Phay, Skin, Kasphay, Chonma, Momo, Tara, Khambir were showcased by Ama Tsogspa of the Bodh-Kharboo area.