Workshop on Empowering Persons with Disabilities to be held on February 28, 2022 Hon'ble Lt. Governor to address the event at the closing session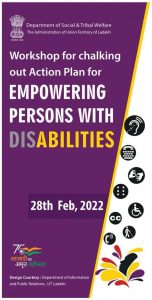 Leh, February 27: Department of Social & Tribal Welfare, UT Ladakh is organizing a one-day workshop for drawing up the Action Plan for 'Empowering Persons with Disabilities (PwDs)' on 28th February 2022. The closing session shall be chaired by the Hon'ble Lt Governor of Ladakh where the Working Groups shall be presenting the strategy and the outline of the Action plan on empowering persons with disabilities. Shri Shivram Deshpande and Shri Rajendraa from Samarthanam Trust for Disabled and Adv. Subhash C. Vashishth from CABE Foundation has been invited as the national-level expert resource person. NGOs from Ladakh viz. PAGIR, Rewa society, Munsel society besides senior officials from the Health and Medical Education Department, PWD, School Education, Higher Education, Labour and Employment, Technical Education & Skill Development, Information Department, Urban Local Bodies and Social & Tribal Welfare Dept shall be participating in the workshop.
The workshop aims at evolving the strategy and action plan for the next five years with the help of stakeholders and national level experts so that the UT of Ladakh offers an environment without barriers to the persons with disabilities for accessible education, accessible built-up environment, enabling environment and opportunities for employability and livelihood.
The Administration of UT Ladakh had earlier drafted the Rights of Persons with Disabilities Rules, as mandated by 'The Rights of Persons with Disabilities Act 2016', and placed it in the public domain for inviting suggestions and feedback from the people.
A meeting was also held in December 2021, chaired by the Advisor to Hon'ble Lt. Governor, Ladakh, Umang Narula with all departments on 'Accessible Ladakh' in line with the 'Accessible India Campaign'. As part of the action points decided in this meeting, the districts are holding medical camps in March 2022 for persons with disabilities where disability certificates shall be given after the medical check-up so that the UDID (Unique Disability Identity Card) can be given to all the eligible beneficiaries.