Vice Chancellor UoL visits Kargil Campus Inaugurates newly installed virtual classroom set-up in Department of Environmental Sciences, participates in valedictory session of 2-day orientation programme for faculty members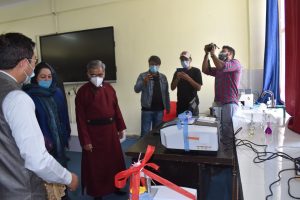 KARGIL, SEPTEMBER 16, 2021: Vice Chancellor University of Ladakh (UoL) Professor Surinder Kumar Mehta visited the Kargil Campus of the UoL here on Tuesday.
The VC was accompanied by the Registrar UoL Imteeaz Kacho, Dean Academic Affairs Rayat Bahra University Mohali Professor VK Jain, Head Department of Chemistry, Gujarat University Professor Neena Mehta, Dean Academics UoL Professor Deskyong Namgyal, Dean Students Welfare UoL Dr Amjad Ali, retired teacher Ripu Jain besides other concerned officers.
Director UoL Campus Kargil Kaneez Fatima and other faculty members gave a rousing welcome to the VC and other guests on their arrival at the campus.
The VC inaugurated the newly installed virtual classroom set-up in the department of Environmental Sciences wherein the faculty members of Computer Science/IT Department presented a full demonstration of the complete setup including both hardware and software components. He also visited the Tribal Research Centre where the Coordinator Sociology/Tribal Research Centre Dr Jaffar Ali Khan presented an overview of the objectives and future research plans of the centre.
The VC along with other officers also visited the Chemistry Laboratory for the inauguration of Alpha II FTIR Spectrometer , Double Beam UV-Visible Spectrophotometer and introduction of Computational Chemistry.
The Coordinator Chemistry Department Ghulam Ali briefed the VC about the newly procured sophisticated instruments in the department.
The VC also visited the classrooms and laboratories of other departments where virtual class setup has been installed.
Later, the VC convened a meeting with the Director and all coordinators of the respective departments.
The Director apprised the VC about the infrastructural as well as academic developments taken by the campus till date and also highlighted the major issues and further development to be carried out in due course of time.
Later, the VC also inaugurated an indoor sports hall where intra-mural table tennis final match between students were organized. A special table tennis match between Dean Academics and Registrar was held. He also made a visit to the campus library and participated in the valedictory session of two-day orientation programme for faculty members of Kargil campus as the chief guest.
The Registrar and Dean Academics addressed the participants and highlighted the importance of organizing such orientation programmes in future also.
The VC distributed certificates and trophies among the winners of various activities carried out by the campus and also appreciated the efforts of the Director in the academic and infrastructural development of the campus. He also asserted to organize such faculty development programmes for a longer period in the near future.
The valedictory session was concluded with a formal vote of thanks by Dr Mehboob Ali.