UT Ladakh finalises tableau for Republic Day Parade in Delhi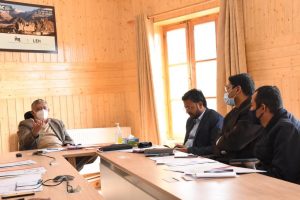 Leh, Oct 12: Advisor, Ladakh, Umang Narula chaired a meeting of the UT Level Committee discuss the concept, theme and design of UT Ladakh Tableau 2022 for the Republic Day Parade in Delhi.
Earlier, Advisor Narula reviewed the theme of the tableau for Republic Day Parade 2022, which included India at 75 Freedom struggle, Ideas at 75, Achievement at 75, Action at 75 and Resolve at 75. He discussed the initiatives to be included in the tableau, selection process, preparation of sketch/ design and models, dimensions, facilities to be provided by the Ministry of Defence etc.
All the members gave inputs regarding the theme, design and concept. Keeping in view the areas suggested by the Ministry, the Committee unanimously approved the theme 'Enterprising Ladakh' for the Republic Day Parade Tableau in Delhi. The Committee selected this futuristic concept within the broad theme of Azadi ka Amrit Mohatsav.
During the meeting, Advisor Narula emphasized that the theme should represent all areas of Ladakh and project its potential in a big way. He further directed that emphasis be given on facets of Ladakh which have not been highlighted so far. The concerned officials were directed to come up with innovative and creative ideas to give shape to this theme.
Furthermore, Advisor Ladakh also emphasized that the tableau should be attractive and should showcase the achievements of the new UT of Ladakh.
The meeting was attended by Commissioner/ Secretary, GAD; Divisional Commissioner; Administrative Secretary, Tourism & Culture; Administrative Secretary, Animal & Sheep; Additional Secretary, Finance Department; Deputy Secretary, Ladakh, Cultural Academy Leh/Kargil; NSDite (National Awardee) R/O Leh and NSDite (State Awardee) R/O Kargil.