UT Administration shall have regular interaction with media houses; Secy, Information holds the first Press Briefing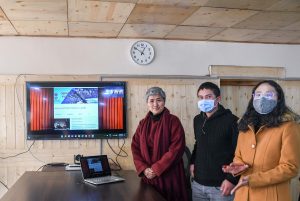 Leh, Nov 25: To ensure regular and detailed dissemination of information by the various Departments, the UT Administration under the direction of Lieutenant Governor, Ladakh is initiating regular press briefing by the Administrative Secretaries. The press briefing by Administrative Secretary, Information, Padma Angmo today, marked the commencement of this new initiative.
Secretary Padma Angmo briefed the media houses on the initiatives of the Information department, such as the Advertisement Policy of Administration of UT Ladakh, 2021, Ladakh News Media Accreditation Guidelines, 2021, empanelment of multi-media creative agencies and publication of district magazines. She shared that a regular press briefing would ensure detailed dissemination of information and would help establish a healthy rapport between the UT Administration and the media houses.
Secretary Padma Angmo answered the queries and grievances raised by the media representatives and assured to take up their issues. She emphasised on a balanced and objective news coverage in the media and urged to ensure that journalistic code of ethics is not violated.
The Secretary also launched the YouTube channel of the Department of Information and Public Relations, UT Ladakh on the occasion.
The weekly press briefing by one Secretary would be scheduled every Thursday.