Training program on Garuda mobile app for BLOs concludes at Kargil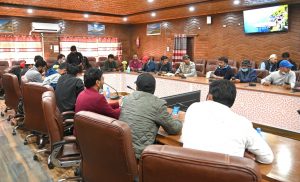 KARGIL, OCTOBER 03, 2021: The two-day training program for the Booth Level Officers (BLOs) of Kargil concluded today at Conference Hall Kargil, during which they were trained about the use of Garuda mobile application, which has been developed by the Election Commission of India (ECI).
On the second day of the training program, BLOs were given extensive training for the use of the mobile application and its features like login and linking of polling stations.
The Garuda app has been developed for the convenience of voters. In this digital app, the BLO will be able to add voter names, deletion of names or modification of addresses in the electoral roll. In addition, the BLO will go door-to-door tagging every voter.
After BLOs are trained to use the application they will later impart the same to other officials. They were explained in detail the basics of latitude and longitude of polling stations.
Meanwhile, it was informed that from Monday the BLOs of Zanskar Sub Division would get the same training at the office of Deputy Commissioner Kargil.
The ECI has launched the Garuda for BLOs. Garuda app is designed to capture the information of polling stations, PS facilities, checklist & booth app features.
Through the app, BLOs have the facility to add or update data for available facilities and identification of polling stations and marking of distance from important places to the nearest bus stand/ police station/ fire station/ fuel pump data/hospitals/ parking area.
Another important feature of Garuda app is that a BLO can verify Assured Minimum Facilities (AMF) available at a polling booth.