Training on Big Data Analytics, Cyber Security concludes in Leh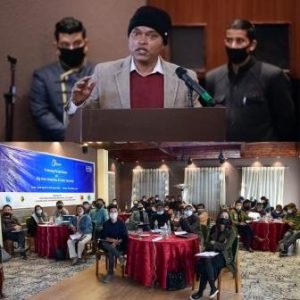 LEH, April 25: The three-day training programme on 'Big Data Analytics & Cyber Security' concluded today in Leh. Deputy Inspector General of Police, Ladakh, Bhim Sen Tuti, presented the valedictory address and gave away certificates to the participants.
Information Technology Department organised the training in collaboration with the National Institute for Smart Governance, Hyderabad.
The three-day training focused on efficient data sourcing, data processing with contemporary IT tools and the optimised data analysis. The training deals extensively with cybersecurity, issues of hacking, protection from security threats, investigation and legal matters surrounding cybersecurity.
Satyajit Vagvala, SGM NISG; G. Chamu, GM NISG; Jagdish Viswanathan, GM, NISG; Madala Venkateshwarlu, Founder Ciberts; and Sandeep Madulkar, CEO, Sytech Labs were the experts.
Deputy Inspector General of Police, Ladakh, Bhim Sen Tuti, Tuti complemented the information technology department for organizing such interesting and useful training and informed the audience of their efforts to build capacity by conducting four training sessions over the last three months. He termed data analytics as a powerful tool, especially in the hands of police officers. He further requested NIC and the IT department to invite officials of the police department to participate whenever such training is held in the future.
Satyajit informed that the UT administration invited them to conduct training on technology and governance for UT Ladakh officers. He shared that they held three programmes- one on Govt. Process Reengineering; Detail Project Report (DPR), Request For Proposal (RFP) and drafting contract management and big data analytics and cybersecurity, covering 100 participants.
Around 35 participants from various departments, including Planning, Information Technology, Police, Statistical, GAD and NIELET, took part in the three-day training. Meanwhile, over 100 participants took part in all three trainings.
Sandeep Madulkar shared that the programme specialised in information and cybersecurity. He added that the training focused on protecting and preserving the data of the government officials- whether the data is stored on the system or cyber networks.
Similarly, Madala Venkateshwarlu informed about the benefits of the training for the departments to function well and understand the analytics and take care of the system using cybersecurity.
Later, DIG Bhim Singh Tuti distributed certificates to the participants.
Earlier this month, the UT administration conducted two more training for the officers of Ladakh Administration- one on 'Govt. Process Reengineering' and on 'Detail Project Report (DPR), Request For Proposal (RFP) and Contract Management attended by senior and middle-level officers, including Secretaries to the Government.