TLSA Drass conducts 'practical demonstration of legal proceedings' for students of GDC Drass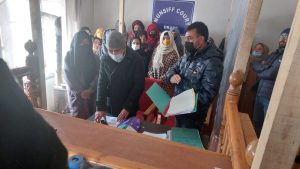 KARGIL, DECEMBER 02, 2021: Tehsil Legal Service Authority (TLSA) Drass in collaboration with Government Degree College Drass organized a day-long live legal proceedings for 4th, 6th-semester students.
Before the commencement of the proceeding, advocate Agah Mehdi enlightened the students about processes and procedures followed in the court for civil and criminal cases. Later they were allowed to attend and witness the legal proceedings that took place at Munsiff Court Drass.
A case regarding challan was put up before Munsiff Deldan Angmo and students witnessed all the aspects of legal proceedings pertaining to the case.
At the close of proceedings, Munsiff encouraged the students to work hard and motivated them to choose their careers in legal services.
Besides, she also advised the students to report any kind of domestic violence case in their area.
The students express their gratitude to Chairman TLSA Drass for allowing them to attend the legal proceedings at the court, they also thanked principal GDC Drass , Professor Shujat Mir & Lecturer Dechan Angmo for giving them an opportunity to participate in the program.