Ten-day Sustainable Cleanliness Drive commences in Khaltsi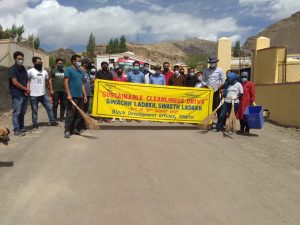 Leh, Aug 05: A ten-day Sustainable Cleanliness Drive (Swachh Ladakh Swasth Ladakh) conducted by the Block Development Officer, Khaltsi, commenced today in the Khaltsi sub-division today. Sub- divisional Magistrate (SDM), Khalsti, Suhail Ahmad, flagged off the cleanliness drive held from SDM Office up to TCP Khaltsi.
Chairman, Block Development Council, Khaltsi; Block Development Officer, Khaltsi; Assistant Executive Engineer, PWD Khaltsi; Zonal Education Officer, Khaltsi; Sarpanch Khaltsi; Naib Tehsildar, Khaltsi and all the employees of sub-division Khaltsi participated in the cleanliness drive.
Similar cleanliness drives were conducted at Singay Lalok and Skurbuchan blocks of the Khaltsi sub-division.