State Board for Wildlife Ladakh convenes second meeting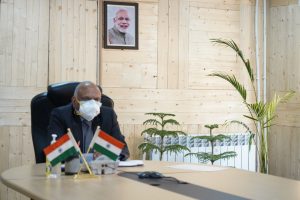 Leh, May 11: The second meeting of the State Board for Wildlife (SBWL) of the Union Territory of Ladakh was held under the chairmanship of Lieutenant Governor of Ladakh, RK Mathur.
Issues related to the rationalisation of protected area boundaries, wildlife clearance for constructing border roads, uninterrupted movement of wildlife in the landscape during and after the implementation of developmental projects, habitat fragmentation, payment of compensation, poaching cases, the menace of feral dogs and waste management, were discussed during the meeting.
The SBWL presented border road construction proposals to Indo-Tibetan Border Police (ITBP), Central Public Works Department (CPWD) and Border Roads Organisations (BRO) for wildlife clearances.

The proposals were shared further for approval from the National Board for Wildlife post-clearance from the SBWL. A total of 11 defence roads covering an area of 154.08 hectares was approved in the Board meeting.
Advocate Tashi Gyalson, Chief Executive Councilor, LAHDC Leh; Jamyang Tsering Namgyal, Member of Parliament, Ladakh; Umang Narula, Advisor to Hon'ble Lt. Governor; Tashi Namgyal Yakzee, Executive Councillor (Wildlife), LAHDC Leh; Mohd. Ali Chandan, Executive Councillor (Wildlife), LAHDC Kargil; Dr Pawan Kotwal, Principal Secretary, Forest, Ecology and Environment; Satish Khandre, Additional Director General of Police; Padma Angmo, Secretary, Social and Tribal Welfare; Preet Pal Singh, Chief Wildlife Warden; Kunzes Angmo, Director Tourism; Dr Raza, Director, Sheep and Animal Husbandry Department; Dr Ranjit Sinh, Former Director of Wildlife Preservation of India; Dr Satya Kumar, Wildlife Institute of India; Dr Padma Gurmet, Officer Incharge, Scientist, National Institute of Sowa Rigpa; Dr Yash Veer Bhatnagar, Senior Scientist, Nature Conservation Foundation (NCF), Snow Leopard Trust; Dr RK Singh, Trustee, Legal Initiative for Forest and Environment (LIFE), Delhi; Dr Tsewang Namgial, Director, Snow Leopard Conservancy India Trust and Dr Javed M Iqbal, Head of the Department of Zoological, Govt. Degree College, Kargil, were present in the meeting.