SSP Leh PD Nitya visits Khaltse sub-division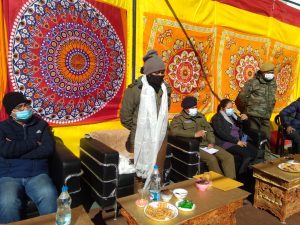 Leh, Jan 14: A Police-Public meeting was held at Khaltse Police Station under the chairmanship of Senior Superintendent of Police, Leh, P D Nitya, organised by the Police Post Khaltse.
SSP Nitya gave a patient hearing to the public grievances/demands and assured to take up their concerns with the respective authorities in the UT Administration. She highlighted the importance of a strong relationship between the police and the public.
Later, she visited the Police Check Post and Screening Point at the sub-division.
Deputy Superintendent of Police, Head Quarter Leh, Rigzin Sangdup; Sub Divisional Magistrate, Khaltse, Suhail Ahmad; Tehsildar Khaltse, Tanveer Ahmad; Block Medical Officer, Khaltse, Dr Chamba Laskit; Incharge Police Post Khaltse, Skarma Angchuk; Naib Tehsildar, Tingmosgang, Tashi Stanzin; Sarpanches, Nambardars and Presidents of Ama Tsogspa from all the villages of Khaltse Block and the President of Sham Contractor Association were present during the event.