Secy Tourism reviews arrangements for Sindhu Darshan Festival 2021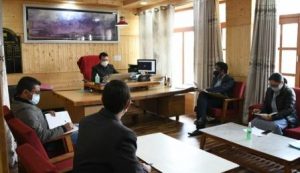 Leh, May 12: Secretary, Tourism and Culture, Mehboob Ali Khan chaired a review meeting to make necessary preparations for the upcoming annual Sindhu Darshan-2021 festival at the Tourist Reception Centre today.
The annual Sindhu Darshan Festival is scheduled to held from June 19 onwards. A detailed discussion on water supply, power supply, setting up of local market, food court, bus parking, VIP parking etc. was held in the meeting.
Deputy Commissioner, Leh informed that preparations are in progress and half of the work has already been completed. It was further informed that the work will be completed in 2 phases.
Secretary, directed the concerned officials to complete the work of Phase 1 by 31 May and directed them to complete the work of Phase 2 latest by June 15.
Secretary, Mehboob directed Deputy Commissioner, Leh to constitute a committee to monitor and supervise the ongoing work. Also, directed DC, Leh to appoint a nodal officer for the same. He directed the concerned officials to ensure power and water supply at the site.
Regarding the renovation and repair of all roads to Sindhu Ghat, Deputy Commissioner, Leh informed that a plan has already been made and work on the same shall be completed soon.
Reading drinking water, it was informed that the administration is planning to install water filters at different points.
Secretary Mehboob directed the concerned official to expedite the remaining work.
The meeting was attended by Deputy Commissioner/CEO, LAHDC, Leh; Director, Tourism; Chief Executive Officer, LDA; Superintending Engineer, PWD, Leh and Executive Engineer, Construction Division, Leh.