Secy convenes meeting regarding status of formation of Milk Unions & Federation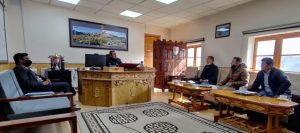 Leh, 18 March: A meeting was chaired by Secretary Animal/Sheep Husbandry & Fisheries & Cooperative Department, Ravinder Kumar regarding the status of the formation of Milk Unions & Federation in the UT Ladakh, at the UT Secretariat today.
Secretary, Ravinder was informed that experts from National Dairy Development Board (NDDB) and IDMC would be visiting Ladakh in connection with setting up of a new back up plant for the existing Milk Pasteurisation plant at Agling. It was further informed that they will be offering services and technical support for the initial three years in running the milk plant.
Secretary asked the Deputy Commissioners and officials from Animal Husbandry and Cooperative Department to expedite the formation of Milk Cooperative Societies and Milk Unions at the district level for the formation of Milk Federation in UT Ladakh.
Dr. Stanzin Thakchos, OSD to Secretary ASH/F & Cooperative Department, has apprised the forum that the formation of Milk Federation at UT Level is mandatory for receiving grants from the Govt. of India under Dairy Development schemes.
Secretary also instructed DC, Kargil, Santosh Sukhdeve to identify the land to set up the Milk Pasteurisation plant in Kargil under the National Programme for Dairy Development (NPDD).
The meeting was attended by Deputy Commissioner, Leh/Additional Registrar Cooperative; Deputy Commissioner, Kargil, Chief Animal Husbandry Officer, Leh/Kargil and Deputy Registrar Cooperative, Leh/ Kargil.