Secy Animal Husbandry inspects ongoing works of milk pasteurization plant in Leh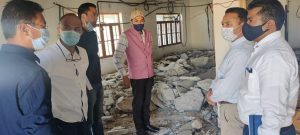 Leh, August, 24: Administrative Secretary, Animal Husbandry and Cooperative Department, UT Ladakh, Ravinder Kumar visited and inspected the ongoing works of operationalization of milk pasteurization plant in Leh.
During the visit, the chief Animal Husbandry Officer and deputy registrar cooperative apprised the Secretary about the progress made in the procurement of backup plants and the creation of other infrastructure assets as per the Indian Dairy Manufacturing Company (IDMC) report. It was also conveyed that the plant will be made functional by the end of October 2021.
Later, the Secretary directed all the concerned officials of both the departments to work dedicatedly and complete the project without any further delay.