Secy Agri/Horticulture chairs meeting to discuss Ladakh Green House Project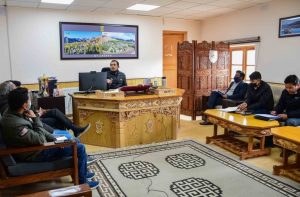 Leh, April, 02: A meeting was convened by Ravinder Kumar, Secretary, Agriculture/Horticulture Department UT Ladakh to discuss the Ladakh Green House Project and its tendering process for effective and timely implementation in UT Ladakh.
Secretary, Ravinder asked the officers to flout the tenders block wise and asked to complete the project this year. He further informed that at the district level, block-wise tendering will be done as per the terms and conditions. He further instructed the officers to expedite the process of tendering.
For tendering process, he asked DC, Leh, to form a committee that will comprise members from different departments. Similarly, he also asked to form a monitoring committee that will monitor & inspect the project.
Secretary also informed that these greenhouses will be set up in all major areas and the dependency for airlifting food to Ladakh will be substantially reduced once the produce starts coming before winters.
Keeping in view the heavy snowfall in Kargil, the Chief Agriculture Officer, Kargil requested the Secretary to change the design of the greenhouse as per the requirement of the area.
Secretary asked Director, DIHAR to send a team to Kargil to decide on the design. He asked them to identify the block in which the design needs to be changed.
He instructed the officers to ensure the quality of greenhouses and to complete it before July 2021.
The meeting was attended by Deputy Commissioner/CEO, LAHDC, Leh/Kargil; Director, DIHAR, Leh; Associate Director, SKUAST, Leh; Chief Agriculture Officer, Leh/Nodal Officer of Agriculture Department; Chief Horticulture Officer, Leh/Nodal Officer of Horticulture Department; Chief Agriculture Officer, Kargil and Chief Horticulture Officer, Kargil.