Secretary Padma Angmo reviews infrastructure projects in Government Degree College Nubra Interacts with faculty and students during her two-day tour to Nubra sub-Division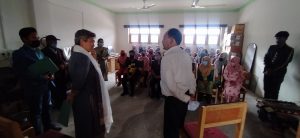 Nubra, August 14: Secretary, Higher Education, Padma Angmo reviewed the infrastructure projects under Special Development Package (SDP) at Government Degree College Nubra today.
Secretary pointed out the delay in starting the projects approved under Special Development Package under which Rs.07 Cr have been approved for the year 2021-22 for Govt. Degree College Nubra of which 50% have been released as the first instalment.
Dr. Tsewang Motup, Principal flagged the absence of any accountant in the College which was making it difficult for the College to frame their proposals. Secretary asked the faculty to fill in the post so that the infrastructure development in the College goes hand-in-hand with the development of academic capacity in the young College.
Later, she interacted with the students of the College and informed them about possible skill training that the students can take up. She also asked the College to nominate some students to be part of the upcoming Himalayan Film Festival being organised by the Department of Information Department & Public Relations where students can benefit from the 'Master Class' and 'In Conversation' with Producers and Directors.
The students requested for operationalizing College Bus Service and provision of Hostel for the students besides Sports facility. She informed the students that provisions have been made for the students' hostel, multipurpose indoor stadium as well as staff quarters under SDP.
Additionally, Padma Angmo also inspected the academic block of the College where the Executing Agency appointed by the erstwhile Government of Jammu & Kashmir has not completed the project. She assured the College authorities that she will take up the matter with the JK Higher Education Department so that the project will be completed and the building can be handed over to the College.