Secretary Kacho Mehboob Ali Khan reviews developmental works in Kargil Chairs meeting with DC Kargil regarding BADP works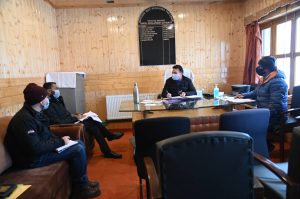 KARGIL, 06 JANUARY, 2022: Secretary Tourism, Culture, Labour, Employment and Food Civil Supplies and Consumer Affairs (FCS&CA), UT Ladakh, Kacho Mehboob Ali Khan chaired a meeting with heads of different departments to review the pace of development projects at KDA Office, TFC Kargil.
ACR/CEO, KDA Abdul Ghaffar Zargar, Assistant Commissioner Development Ghulam Muhammad, Executive Engineer R&B Kacho Mehmood Ali Khan, Executive Engineer KDA Kacho Sajjad Wazir, AD Tourism Aga Syed Toha, OSD to Secretary Tourism and Culture Muhammad Ali Tak, officials of Zanskar Development Authority, among others attended the meeting.
The Secretary reviewed the physical and financial progress of ongoing and new projects under State Capex and SDP of different departments like Kargil Development Authority, R&B, Tourism, and Zanskar Development Authority.
The officials of the departments appraised the Secretary regarding the status of progress on various projects under their respective departments.
Later, the secretary chaired a review meeting related to development works under SDP/Capex related to FCS&CA, Employment and Counseling Centre Kargil, Ladakh Academy of Art Culture and Languages, Labour Department and District Libraries.
ADC Kargil and Director FCS&CA Ladakh, Tsering Motup, Deputy Director Employment and Counseling Centre and in-charge Assistant Labour Commissioner Muhammad Kazim, OSD to Secretary Tourism and Culture Mohammad Ali Tak, representatives of Ladakh Academy of Art Culture and Languages (LAACL) Kargil and District Libraries Kargil, besides concerned officers of the department attended the meeting.
Secretary Mehboob Ali Khan also took an assessment of various works undertaken by the concerned departments under Capex and SDP both under capital and revenue expenditure.
While taking the assessment FCS&CA works, he said that monthly distribution of ration should be ensured keeping in view prevailing weather/climate conditions.
He also directed to prepare DPR of proposed Grainery of 500 MT capacity each at functionally required locations.
The secretary directed that registration of unemployed youth should be done on priority so that better plans can be framed for skill development, providing opportunities for self-employment and creating avenues for their benefit
While assessing the work of Labour Department the Secretary emphasized that the under-construction labour sarais at various places are required to be completed at the earliest. He also directed them to expedite the process of online registration of all unorganized workers.
Regarding undergoing works in libraries, he said the establishment new building for District Library is a priority and measures should be taken for its early completion.
Regarding the LAAC&L, Kargil the Secretary directed the concerned officers to immediately take over possession of the allotted land for construction of a state-of-the-art Cultural Center.
Later on, the Secretary/Prabhari Officer, BADP for Kargil District also took a meeting with Santosh Sukhadeve, IAS & Chief Planning Officer Abdul Hadi and discussed various aspects of the scheme and the works under execution.