Secretary Higher Education convenes meeting with Principals, Nodal Officers of Colleges and Higher Secondary Schools regarding PMSSS 2021-22 for students of Ladakh and Jammu & Kashmir Registration for PMSSS 2021-22 to start from 6th September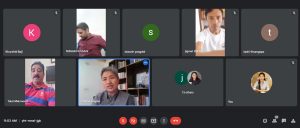 Leh, Sept. 05: Secretary, Higher Education, Administration of UT Ladakh, Padma Angmo, took a meeting with the Principals and Nodal Officers of Colleges and Higher Secondary Schools that has been assigned as Facilitation and Verification Centres for the Prime Minister Special Scholarship Scheme for students of Ladakh and Jammu & Kashmir.
Padma Angmo emphasised the proactive role to be played by the Nodal Officers in facilitating the students in applying for the PMSSS which has benefited around more than 1050 students from Ladakh in the past four years. She also informed that the ST certificate issued by the Administration shall be a valid document for proof of residence for students of Ladakh.
Professor Ajeet Angral, Consultant AICTE gave a detailed briefing to the Nodal Officers about the process of registration, the eligibility of students and the online portal on which the students will have to apply for the scholarship scheme besides the documents that the students need to submit with the application.
Director School Education, Safdar Ali said that the Nodal Higher Secondary Schools will be extended requisite facilities to act as effective Facilitation Centre for PMSSS. The registration for PMSSS 2021-22 starts from 6th September and the meeting was held to brief the Nodal Officers about their role in facilitating the students to apply for the PMSSS.Around 35 Principals and Nodal Officers participated in the meeting.
The candidates having domicile of Union Territories of Jammu & Kashmir and Ladakh with an annual family income of Rs 8 lakh or less are eligible for the PMSSS. As per AICTE around 1,500 students from Ladakh applied under the scheme in 2020-21 out of which 410 students qualified and took admission in various Institutes across the country.
Under PMSSS, scholarship is awarded to meet the expenditure towards Academic Fees and Maintenance Allowances (for hostel, mess, cost of books and other incidental charges) to candidates who are admitted through AICTE's counseling process. The academic fee is reimbursed directly to Institution as per actual subject to maximum ceiling of Rs. 1,25,000/- for Professional Streams which includes Engineering, Pharmacy, Nursing, HMCT, Architecture; Rs. 30,000/- for General Stream and Rs. 3,00,000 for Medical Stream. The ceiling for maintenance expenses is Rs. 1.00 lakh per annum for all streams and will be paid through PFMS in candidates account directly. The maintenance expenses include hostel, mess, cost of books etc. Maximum payable amount to student is Rs. 1,00,000/- per annum and is disbursed in the students saving bank account directly.
Admission is offered to the candidates in identified institutions/colleges / universities. Aspirants seeking admission through JEE Mains/JEE Advance in IITs, NITs, IISc, IISER and centrally funded institutions of national importance are also eligible for the scheme if s/he participates in online counselling by filling their JEE roll numbers with admit card and result. Medical aspirants seeking admission in BDS/MBBS streams who appear in NEET examinations should register on AICTE portal by submitting complete details including NEET roll number and get their documents verified by Facilitation Centre as per the procedure.
The students are required to visit the nearest facilitation centre for registration. For documents verification visit nearest Facilitation cum Verification Centre w.e.f. from September 10,2021 onwards. While Higher Secondary Schools will be the facilitation centres to help students for registering on the portal and uploading supporting documents, the six Degree Colleges will be Facilitation cum Verification Centres for the PMSSS. The list of Facilitation /Verification Centres is available on AICTEJK-PMSS Website and for registration refer link http://www.aicte-jk-scholarship-gov.in and the detailed information about the scheme guidelines may be seen at AICTE website https://www.aicte-india.org/bureaus/jk/2021.