SE PWD Kargil assesses feasibility of upcoming projects at GMDC Zanskar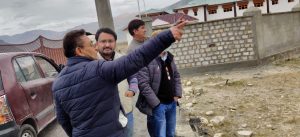 KARGIL, OCTOBER, 17, 2021: Superintendent Engineer (SE) PWD Kargil Tashi Tundup along with the Executive Engineer PWD Zanskar Muhammad Abbas and concerned AEEs and JEs visited Government Model Degree College (GMDC) Zanskar to assess the feasibility of various upcoming projects under SDP, State Capex and District Capex here on Saturday.
On the occasion Principal GMDC Zanskar Nassir Shabani apprised the SE PWD Kargil about various future projects to be executed in the college campus.
The SE PWD assured the Principal GMDC of immediate allotment of architect design and also assured that PWD will take adequate measures for execution of the required works within the stipulated timelines.
The Principal GMDC thanked the SE PWD for visiting the college campus and taking keen interest to facilitate immediate execution of works.