SDM Zanskar reviews progress of snow clearance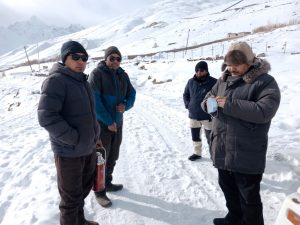 KARGIL, JANUARY 13, 2022: Sub Divisional Magistrate (SDM) Zanskar, Sonam Dorjay today visited many villages including Sani, Tungri, Teacha-Khasar, Langmi Rejing and Marsha to monitor and review the progress of snow clearance from link roads.
The SDM was accompanied by JE and Supervisor of Mechanical Department Zanskar. The SDM directed the JE and Supervisor to deploy a helper with the machine operator during snow clearance.
While interacting with the representative and villagers, SDM Zanskar inquired about the quality of snow clearance and other related issues.
During the visit, the villagers requested the SDM to arrange soil for slippery roads. He assured them that the soiling will be started by the PWD Development from tomorrow.