SDM Zanskar reviews arrangements for Republic Day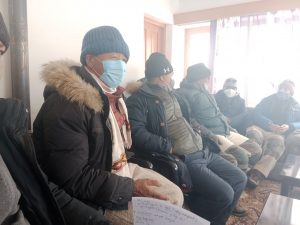 KARGIL, JANUARY 17, 2022: Sub Divisional Magistrate (SDM) Zanskar, Sonam Dorjay today chaired a meeting regarding the celebration of 73rd Republic Day. The meeting was attended by all sub-divisional level officers.
During the meeting, it was decided that the National Flag will be hoisted by the chief guest at Tourist Dak Bungalow Padum Ground at 11 am.
Ladakh Police, ex-serviceman, and one school troop will participate in flag hoisting ceremony and will ensure to maintain proper Covid-19 SOPs including wearing of masks and maintaining social distancing norms.
The SDM said that huge public gatherings at the venue will be prohibited in view of the rising number of Covid-19 cases.
The Health Department will ensure the proper rapid test of every participant during the function as a precautionary measure.
The SDM Zanskar stressed the officers attend the function at the venue well on time.