SDM Zanskar distributes relief among drought-affected families at Pishu village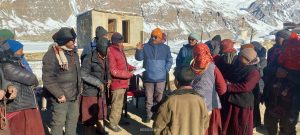 Kargil, Feb 24, 2023: Sub Divisional Magistrate (SDM) Zanskar, Sonam Dorjay on Thursday visited Pishu village and distributed relief among the drought-affected areas.
The SDM started the relief distribution to drought-affected areas. On the first day, he visited Pishu village of Sham area and verified the name and account numbers of 37 beneficiaries.
SDM assured that an amount of Rs 3,54,000 (as drought relief) will be disbursed among 37 beneficiaries of Pishu village in their accounts within two days.
He also enquired about the fodder relief already distributed among the beneficiaries of drought-affected villages by the Sheep and Animal Husbandry Department.
The villagers expressed gratitude to UT Administration, District and Sub Divisional Administration for sanctioning the relief amount in their favour.
The drought relief to other villages will be disbursed one by one after proper verification of account numbers and required documents of the beneficiaries.