SDM Shakar Chiktan inspects health care centres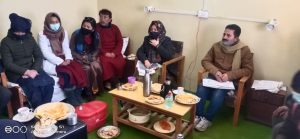 KARGIL, JANUARY 28, 2022: Sub Divisional Magistrate (SDM) Shakar Chiktan, Muhammad Sharif along with other officials inspected medical centres and reviewed measures to be taken to contain the spread of new variant (Omicron) of Covid-19.
The SDM along with BMO, Shakar Chiktan, Dr Zohra Batul conducted an extensive three days tour of the Tehsil from Hinaskot to Lamsoo Sandoo and from Khagral to Kukshow.
The tour was conducted as per the pre-circulated schedules and was attended by the respective Duty Magistrates, surveillance team of Covid-19, Sarpanches, Panches and Lambardars.
The SDM gave a patient hearing to all health-related problems being faced by the staff and public at the health centres.
He stressed upon the public to adhere to all the SOPs of Covid-19 issued by the administration and follow the same in letter and spirit to contain the pandemic.
During the tour, the officials warned public that if the SOPs are not followed legal action shall be initiated against the defaulters.
The BMO and SDM stressed upon the public to extend their full cooperation to the Health Department in conducting COVID-19 sampling, generation of health ID card, vaccination and Ayushman Bharat (Golden Card).
People of these areas appreciated the SDM for his visit despite harsh weather condition and assured for them full cooperation in containing the pandemic.