SDM Shakar Chiktan conducts extensive tour of government schools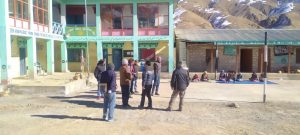 KARGIL, DECEMBER 03, 2021: Sub Divisional Magistrate Shakar Chiktan along with Zonal Education Officer and coordinator of Shakar Chiktan Zone conducted an extensive tour of all the Government schools from 30th of November which concluded on 2nd of December.
During their visit to schools, the team interacted with all the stakeholders of the schools including some VECs, Panches, teachers and parents.
Various issues were discussed like staff-related matters, infrastructure facilities and less enrolment of students in government schools.
While his interaction with the PRIs and school authorities, SDM highlighted the issue of poor enrolment of students in government schools and emphasis to take special initiatives so as to increase the enrolment.
During the tour, the team found that most of VECs were absent despite being informed and directed to be present at their respective schools.
SDM directed the ZEO to review the nomination/selection of VEC members and update it by including parents of those students who are already enrolled in that particular school.
The team decided to submit its detailed proposal to Higher Authorities with their observations and recommendations to make government schools better in all aspects like adoption of few schools as pilot/ model schools where rolls of students are better and villagers are also showing special enthusiasm.