SDM Shakar Chiktan chairs review meeting on JJM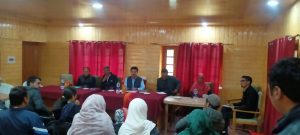 KARGIL MAY 19, 2022: Sub Divisional Magistrate (SDM) Shakar Chiktan, Muhammad Sharif today chaired a meeting of officers to review the progress of Jal Jeevan Mission (JJM).
The meeting was attended by all the committee members duly constituted by the administration which includes Tehsildar Shakar Chiktan, AEE PHE, BDO Shakar Chiktan, In charge Police Post Shakar Chiktan/Khangral, BDC Chairperson besides PRI members.
The SDM briefed about the importance of the JJM and the role of committee members in implementing and executing works within the targeted time period.
AEE, PHE Abdullah read out the development of the work under JJM in every village of the Block. The meeting was informed that work is going on in full swing in all villages and he requested the PRIs to extend their cooperation so that the laying done of pipes in every household should be completed by August 15, 2022, and the scheme by 2024.
In the meeting, the AE GREF was also present. It was informed that in coming days, widening of KS Road will be carried out in coordination with both the departments.
Later, the BDO, Shakar Chiktan, Ali Akbar briefed about the importance of greywater survey in the subdivision and its importance/linkage with JJM. He informed that the government is providing subsidies for construction of pits for the said purpose.
BDC chairperson informed that two days back she visited most of the villages in the Block and shared her observations in the meeting.
Later, during a question and answer session, the PRI members put forth their questions regarding the implementation of JJM and were given satisfying reply by AEE, PHE.
The SDM concluded the meeting with the direction to create a WhatsApp group of all the committee members to monitor the progress of work and to fix a schedule for the awareness camp (Jal Andolan) after consultation with all the concerned officials.