SDM Drass reviews arrangements ahead of Independence Day celebrations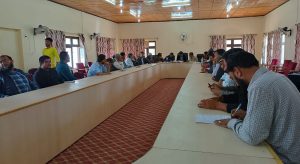 THE ADMINISTRATION OF UNION TERRITORY OF LADAKH
LADAKH AUTONOMOUS HILL DEVELOPMENT COUNCIL KARGIL LADAKH
DEPARTMENT OF INFORMATION AND PUBLIC RELATIONS KARGIL LADAKH
PRESS RELEASE
SDM Drass reviews arrangements ahead of Independence Day celebrations
KARGIL, AUGUST 04, 2022:
Sub Divisional Magistrate (SDM) Drass today took a review meeting to discuss the arrangements ahead of the 75th Independence Day celebrations in the subdivision.
The meeting was held at conference hall Dak Bungalow regarding the preparations of Independence Day during which all necessary arrangements were reviewed.
The meeting was attended by SHO Drass, ZPEO Drass, ZEO Drass and representatives of different departments. In the meeting, all the concerned departments were made aware of their responsibilities.