SDM Chiktan inspects health centres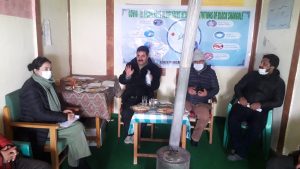 KARGIL, JANUARY 21, 2022: Sub Divisional Magistrate (SDM), Shakar Chiktan, Muhammad Sharif inspected health centres and took stock of infrastructure, electricity, drinking water, availability of medicine, staff position, and patients flow.
The three-day inspection of health centres cum Covid- 19 awareness concluded at Kukstay, Tacha & Karit and health care facilities were reviewed during the inspection.
The SDM was accompanied by Tehsildar Shargole, concerned I/C BMO Shargole, Medical Officer, Duty Magistrates, surveillance team along with concerned Sarpanch, Panches and Nambardars.
The team visited all the 17 centres of the Tehsil with vehicles playing the awareness message about Covid-19 and people were asked to adopt SOPs in letter and spirit.
The SDM interacted with each official and non-official surveillance team and instructed them to take measures at each level to contain the virus spread in their respective areas.
He also asked the non-official members for extending their cooperation and get in touch with people in their villages and also asked to warn the public to follow all SOPs of Covid-19 and said that strict action will be taken against the defaulters.
The SDM emphasized the surveillance teams to be aware of the coaching centres and asked them to visit frequently there to ensure Covid-19 SOPs are followed or not.
He also advised the medical team at centres to visit at least once a week and aware students of SOPs and teach them about the proper wearing of masks and hand hygiene.