School of Khaltse Block reopens after Covid pandemic Celebrates 'Back to School' Programme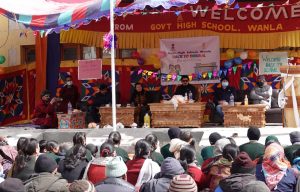 Leh, March 07: The Government and Private Schools of Khaltse Subdivision celebrated the 'Back to School' programme today to mark the school reopening after the Covid-19 pandemic. The students along with their parents happily attended the first day of the school's reopening.
The Back to School program began with an inaugural event followed by a cultural program and motivational talk by dignitaries to the students of various schools.
The Chairman/ CEC, LAHDC Leh, Adv. Tashi Gyalson was the chief guest at the Back to School programme at Government High School, Wanla. Sub Divisional Magistrate, Khaltse, Suhail Ahmad; Chairman BDC, Singay Lalok, Stanzin Yangdol; BDO Khaltse, Virender Bawa; Sarpanch, Nambardar, Headmaster and staff members were present during the programme.
CEC Gyalson inaugurated the inaugural event of the 'Back to School' program and spoke on the importance of education. He further highlighted the meaning of the Back to School programme and the importance of such initiative in bringing students closer to learning quality education.
Similarly, the district officials of various departments attended the 'Back to School' program in various schools of Khaltse Block as the guest of honour. They were accompanied by public representatives as well.