Sahu reviews land acquisition and progress on widening of Kargil-Zanskar Road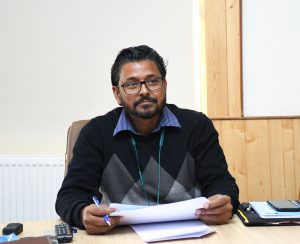 Leh, April 13: The Commissioner/Secretary, Public Works Department, UT Ladakh, Ajeet Kumar Sahu, chaired a meeting to expedite the land acquisition and disposal of other pending issues concerning the widening of Kargil-Zanskar Road (NH-301).
Reviewing the status of land acquisition, the Commissioner/Secretary directed the Deputy Commissioner Kargil and concerned Sub-Divisional Magistrates for early completion of the assessment of immovable properties and trees and disbursement of compensation to the affected persons. The Deputy Commissioner, Kargil apprised the Commissioner/Secretary that section 3A notification has been issued for all 32 villages and section 3D notification has been issued for 20 villages. 3D notification of all the 32 villages is expected to be completed by or before April 2022, after the mandatory notice period is over.
The widening project of the Kargil-Zanskar Road with an existing length of 234 km spans 32 villages. The project once completed, will ensure 2-lane all-weather connectivity between Kargil and Zanskar valley.
In the meeting, detailed discussions were also held on the status of shifting of utilities for example power lines, water supply lines, optical fiber cables, etc. coming in the alignment of the National Highway NH-301. The Commissioner/Secretary was apprised by the NHIDCL officials that most of the power networks have been shifted by the contractors and have to be certified by the Power Development Department. The Commissioner/Secretary asked the Chief Engineer PDD to do an early assessment and provide the certificate.
Regarding the shifting of communication cables (Optical Fiber Cable) on the Kargil-Zanskar Road, the Commissioner/Secretary asked officials of the Information Technology department to coordinate with the concerned telecom agencies and NHIDCL for early shifting.
Further, the Commissioner/Secretary asked the concerned authorities to expedite all necessary permissions regarding quarrying, dumping areas, and camp areas. He also stressed that there should be minimum disturbance to Kulhs, wherever the road passes along or through them so that agricultural activities are not affected in the region.
The meeting was attended by the Chief Wildlife Warden; Deputy Commissioner/CEO, LAHDC, Kargil; Director RDD Ladakh; Chief Engineer, PWD, Ladakh; Chief Engineer, PDD, Ladakh; Chief Engineer, PHE/I & FC, Ladakh; Superintending Engineer, PWD (R&B) Kargil; Sub District Magistrate, Sankoo; Sub District Magistrate, Zanskar; Executive Engineer, PWD, Sankoo Kargil; Executive Director (P) NHIDCL, RO Ladakh, and General Manager (P) NHIDCL, PMU, Kargil.