Sahu chairs meeting to discuss Groundwater Resource Estimation in UT Ladakh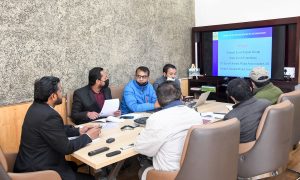 Leh, April 29: Commissioner/ Secretary, Public Health Engineering Department, Ajeet Kumar Sahu chaired a meeting to discuss the Groundwater Resource Estimation (GWRE) in UT Ladakh with the officials of Central Ground Water Board (CGWB), Jammu.
During the meeting, the Commissioner/Secretary emphasised the need for conducting a Geographic Information System (GIS) mapping of all the bore wells in Ladakh. He directed the Executive Engineer, PHE/I&FC to do a GIS mapping of all bore wells, whether functional or non-functional, domestic, industrial, or departmental. Prior permission has to be taken for any drilling activity from the Superintending Engineer, he added.
Further, the Commissioner/ Secretary asked the Executive Engineer, PHE/I&FC to launch a portal for the online application and registration for drilling bore wells. He exhorted that without prior permission no drilling activity will be allowed to take place, all the drilling agencies should be registered and drilling equipment should have Global Positioning System (GPS) tagging.
Commissioner/ Secretary asked concerned officials to make the installation of meters mandatory on all the bore wells whether private or government.
Earlier, Scientist 'D', CGWB, NWHR, Jammu, M.L.Angurala gave the Commissioner/ Secretary a detailed presentation on the Groundwater Resource Estimation in the Union Territory of Ladakh. He briefed the Commissioner/ Secretary about the assessment zones for GWRE in both Leh and Kargil districts.
Groundwater is a vital source to meet the water requirements of several sectors such as agriculture, domestic, and industrial. If its usage is unchecked it can lead to inter-sectoral conflicts.
The meeting was attended by M.L. Angurala-Scientist 'D' CGWB, NWHR, Jammu; Dr. Sunil Kumar-Regional Director, CGWB, NWHR, Jammu; Sonam Wangchuk, Superintending Engineer (Hydraulics), PHE/ I&FC, Circle Leh; Mohd. Ali, Executive Engineer, PHE, Leh, and JJM, PMU, Ladakh, Parikh Shukla.