Principal Secretary Pawan Kotwal reviews progress on Health IDs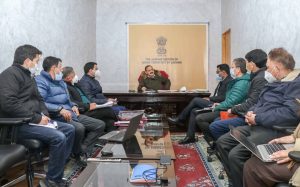 Leh, December 20: Principal Secretary, Health and Medical Education, Pawan Kotwal chaired a meeting in his office chamber today to review the progress on the creation of Health IDs under the Ayushman Bharat Digital Mission for the remaining population after the issuance of guidelines dated December 15, 2021, by Additional CEO, National Health Authority for collecting data and creation of Health IDs by offline mode.
During the meeting, Principal Secretary stressed that the Health Management Information System (HMIS) should be fully implemented in the Districts and the Community Health Centers within the next two months. He set a target of Feb 15, 2021, to achieve a full-fledged HMIS in the District hospitals of Leh and Kargil. He further directed the authorities to bring in consultants, conduct training and if required get additional internet data to achieve the set target.
Earlier, Nodal Officer, NDHM, Dr. Phunchok Norboo gave a detailed presentation on Ayushman Bharat Digital Mission (ABDM) guidelines for creating Health IDs in offline mode using paper-based forms with the consent of the citizens to bring those living in poor internet connectivity areas into the ABDM ecosystem and help them access the benefits.
Further, he said that the Health IDs in offline mode for the beneficiaries will be done through the assistance of "authorised personnel". The authorised personnel may include healthcare workers, officials from healthcare facilities, Central Government, State Government, District Administration and others. The provision to create Health ID in offline mode will be enabled for specific cases only, he added. He also explained in detail the criteria and collection of application forms and consent.
Additional Secretary, Health & Medical Education Department, Dr. Iftikhar Chowdhary, apprised Principal Secretary that so far 1 lakh 60 thousand people have been covered under the Health ID programme.
Principal Secretary directed the officials of the Health Department to generate all the medical prescriptions in CSCs and PSCs online from Feb 15, 2021. A discussion on referral of UT Level DR vacancies to SSC from the Health & Medical Education Department also took place.
The meeting was attended by Deputy Commissioner Leh, Shrikant Suse; Deputy Commissioner, Kargil, Santosh Sukhadeve; Additional Secretary, Health & Medical Education Department, Dr. Iftikhar Chowdhary; Director Health Services, Dr. Phuntsog Angchuk; Deputy Director Planning Konchok Gyalson; CMO Leh, Dr Motup Dorje; CMO Kargil, Munawar Hussain; Nodal officer, NDHM, Dr. Phunchok Norboo and Sr. Consultant Anesthetist SNM hospital, Dr. Tsering Morup.