Principal Secretary Ladakh Dr Pawan Kotwal takes stock of developmental works at Zanskar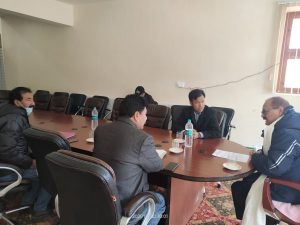 KARGIL, SEPTEMBER 25, 2021: Principal Secretary, UT Ladakh Dr Pawan Kotwal during his visit to Zanskar Sub Division discussed the status of various developmental works of the area with the Executive Councillor for Tourism and Zanskar Affairs Er Punchok Tashi at Tourist Reception Centre Padum here on Thursday.
Additional Deputy Commissioner Kargil Tsering Motup, Sub Divisional Magistrate Zanskar Sonam Dorjay besides other sub divisional officers were present during the meeting.
During the course of the meeting, EC Punchok Tashi discussed various issues of Zanskar including release of funds for fencing of proposed land for air strip, construction of high tech building for library, posting of specialist doctors at CHC Padum, special training for a medical officer for handling pregnant women as no specialist doctor for women is presently available at CHC Padum besides other related issues.
The Principal Secretary assured the EC Zanskar Affairs that all issues will be given consideration for suitable follow up measures.
Later, the Principal Secretary chaired a meeting of the sub divisional officers and enquired about the stock position of essential commodities in the sub division for winter months, progress of developmental activities, roll of students in government schools, submitted projects of roads and buildings, provision of safe drinking water and other related issues.
The Principal Secretary directed the concerned departments to ensure proper submission of DPRs for early sanctioning of funds.
Treasury Officer Zanskar urged the Principal Secretary for providing Jio internet lease line or Jio fiber facility for all the DDOs so that the PFMS is run timely.
During his visit to Community Health Centre Padum, the Principal Secretary inspected the Dental Section, General OPD, oxygen plant and other ongoing constructions works.
Block Medical Officer Zanskar apprised the Principal Secretary about the issues of posting of specialist doctors, completion of the remaining works of the operation theatre and other issues related to the hospital.
The Principal Secretary directed the BMO Zanskar to prepare a list of machines, equipments and medicines required in the hospital so that purchases can be made in time, adding he said that there is no dearth funds.
Principal Secretary also visited the proposed land for air strip, Haftal Hydel Project, Sani Lake and Monastery and Karsha Monastery.