PDD signs PPA with SECI for 50 MWdc Solar Project in Leh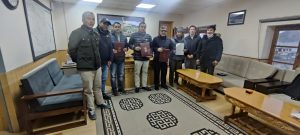 Leh, December 9: The Power Purchase Agreement (PPA) was signed today between Chief Engineer, Power Development Department, UT Ladakh, Ghulam Ahmad Mir and Senior Manager (Projects), SECI, Debajyoti Bordoloi in the presence of Administrative Secretary, UT Ladakh, Ravinder Kumar. It was informed that the PPA is for buying power from SECI from the 50MWdc Solar project with battery storage being developed with CFA under PMDP-2015, at Taru, Leh.
Also, it was further informed that the power from this project will be bought by PDD Ladakh at Rs 2.22/unit as mandated vide MNRE Sanction Order Dated:08.11.2021.
Speaking on the occasion, Administrative Secretary, Ravinder said that this is a very prestigious project for Leh which will help in improving Leh's Power scenario in the coming days and would meet all the power requirements of the people of Leh, Ladakh. He further added that the MoU for this project was already signed between LAHDC Leh, UT Administration and SECI on April 6, 2021.
Further, SECI expressed gratitude to the UT Administration for this historic PPA signing ceremony and all the support provided till date related to this project.