PAC members recommends five Newspapers/ Periodicals for empanelment with DIPR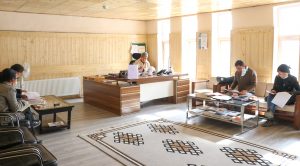 Leh, Oct 22 : Secretary Information Leh, Padma Angmo convened a meeting of the Panel Advisory Committee (PAC) to finalise the empanelment of Newspapers/ Periodicals for printing advertisements received from Administration of UT Ladakh and District Administration of Leh and Kargil.
The meeting reviewed the decisions and recommendations made in the previous PAC meeting held on August 30. After thorough discussion, and based on the documents submitted by various News agencies, the Committee shortlisted a total of five Newspaper/ Periodicals that met all eligibility criteria for empanelment as per the 'Advertisement Policy of the Administration of UT Ladakh, 2021'.
The PAC also observed that the Newspapers already empanelled with DAVP, GOI will be eligible for getting advertisements from the Administration of UT Ladakh.
The meeting was attended by the Committee members including Director, Social Welfare Department, UT Ladakh; Assistant Director, DIPR, Leh; Editor, Reach Ladakh, Stanzin Desal; Director, Tourism, UT Ladakh; Assistant Director, DIPR, Kargil; Executive Editor, Weekly Voice of Ladakh and Aga Syed Hashim Razvi.