NISR Leh signs MoU with Amity University Noida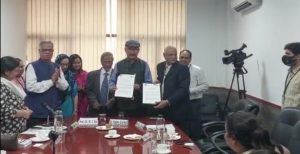 Leh, June 17: National Institute of Sowa Rigpa (NISR), Leh signed a Memorandum of Understanding (MoU) with Amity University, Noida on June 16 at the Amity University Campus in Noida.
The MoU was signed by Director, National Institute of Sowa Rigpa, Leh, Dr Padma Gurmet and Registrar, Amity University, Noida, B L Arya, in the presence of Dean, Health and Allied Sciences, Amity University, Professor B C Das and several eminent scientists and faculty members of Amity University.
The MoU would focus on several areas, including the conservation of selected medicinal plants of Trans-Himalayas; isolation and characterization of the novel compounds from the medicinal plants used in the Sowa Rigpa system of medicine, and development of methodologies for the enhancement of the important secondary metabolites from the medicinal plants used in Sowa Rigpa and submission on of joint projects of interest of both the institutes.
It was decided that NISR Leh would provide logistic support to the Amity University in carrying out activities in Ladakh as per the requirement, organise symposia, conferences and meetings on timely research issues, carry out joint research programmes and exchange information about the agreed-upon research areas.