National Voters Day observed in Kargil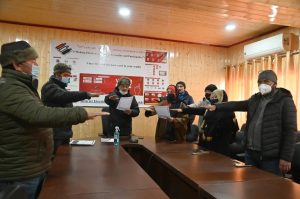 KARGIL, JANUARY 25, 2022: On the occasion of 12th National Voters Day, District Election Office Kargil today organized a virtual pledge ceremony with all district officers at NIC.
The theme of this year's NVD is 'Making Elections Inclusive, Accessible and Participative' envisages focus on Election Commission of India (ECI's) commitment to facilitate active participation of voters during the elections and to make complete process hassle-free and a memorable experience for all categories of voters.
Additional Deputy Commissioner (ADC) Kargil, Tsering Motup, Deputy District Election Officer, Nargis Banoo and other district officers were present during the virtual pledge ceremony. The ADC led the virtual pledge ceremony with the district officers of Kargil.
Speaking on the occasion, ADC Kargil underlined the importance of participation of every single eligible voter in electoral process in India. He also said that the world's largest democracy is successful only because of active participation of voters.
Hailing the role of ECI in conducting free and fair elections, the ADC said the enrolment of eligible voters in voter list will further strengthen India's democracy.
Meanwhile, ADC Tsering Motup requested officers of the DEO Kargil to make the enrolment process inclusive and ensure no eligible voter should be left behind.