National Lok Adalat disposes of 275 cases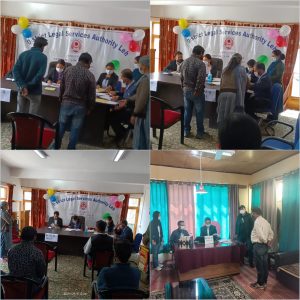 Leh, Sept 11: A total of 275 cases were disposed of during the National Lok Adalat comprising five benches at the District Court Complex in Leh today.
The different benches of National Lok Adalat disposed of Motor Accident Claim Tribunal (MACT) cases, bank cases, criminal compoundable cases, civil cases, labour disputes, electricity issues, cases under the MC Act and traffic challans. The benches imposed a fine of Rs 133600 and Rs 9091944 as the settlement amount.
Bench 1 comprised President of District and Sessions Judge, Deepak Sethi and President, Bar Association Leh, Mohammad Shafi, whereas Bench 2 consisted of In-charge Chief Judicial Magistrate (CJM) Leh, Phuntsog Angmo and Secretary Bar Association Leh, Deachen Angmo.
Similarly, Bench 3 comprised Sub-Judge, Leh, Phuntsog Angmo and Advocate, Gonbo Stobgyal, whereas Bench 4 consisted of Munsiff, Nobra, Wangail Tsering and Vice President, Bar Association Leh, Sonam Paljor. Bench 5 constituted at Khaltsi comprised Munsiff Khaltsi, Chemmit Yourgail, and Tehsildar Khaltsi, Tanveer Ahmad.