LAHDC Leh conducted a brainstorming workshop on reducing single-use plastic in Ladakh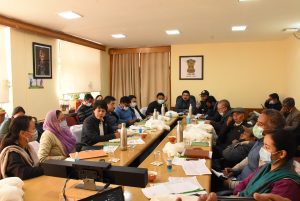 Leh, Oct 11: LAHDC Leh in collaboration with the GB Pant National Institute of Himalayan Environment, Ladakh Regional Centre Leh conducted a brainstorming workshop on the theme 'Reducing single-use plastic in Ladakh' at the Council Secretariat, Leh today.
The workshop took place under the chairmanship of the Chairman/CEC, LAHDC Leh, Adv Tashi Gyalson, and was attended by MP Ladakh, Jamyang Tsering Namgyal; Dy Chairman, Tsering Angchuk; EC RDD, Tashi Namgyal Yakzee; EC Agriculture, Stanzin Chosphel; DC Leh, Shrikant Suse; President MCL, Dr Ishey Namgyal; ACD Leh; BDO Leh; Energy Advisor to LAHDC Leh; Scientist, Pollution Control Committee Ladakh; Project Supervisor of Tsangda Project and representatives from various NGOs including LEDeG, PAGIR, Planetfirst Recycling and Merchant Association Leh. Professor (Dr) Vasudevan, a Padma Shree awardee, Dr Sameer Joshi from the Indian Plastic Institute Pune and Jayesh Rambia from the Plastindia Foundation Mumbai attended the workshop virtually. The workshop was moderated by the Regional Head of GB Pant NIHE, LRC Leh, Dr Subrath Sharma.
All the officials deliberated in detail on the challenges being faced due to the increasing number of single used plastic in Ladakh and discussed several measures on controlling and reducing the usage of such plastic in the region. Experts from various backgrounds shared their experiences working on the recycling of plastic materials and put forth their suggestions and observations.
CEC, MP, ECs, DC and all the other officials shared their observations and remarks during the workshop. They stressed the need for making the public aware of the consequences and reduce the usage of single used plastic in the region by following various alternatives replacing it. They also appreciated various initiatives from several NGOs working on innovative usage of eco-friendly materials and requested them to work on large scale productions for mass usage.