Ladakh to set up Sustainable Development Goals Coordination Centre in Ladakh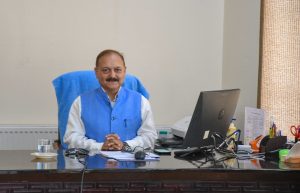 Leh, August 02: Principal Secretary, Planning, Development & Monitoring Department, UT Ladakh, Dr Pawan Kotwal, today, convened a meeting to discuss projects for setting up of Sustainable Development Goals Coordination Centre (SDGCC) under the United Nation Development Programme (UNDP) in Ladakh on the pattern of SDGCC in the state of Haryana, Punjab, Uttarakhand, Karnataka and Nagaland already set up by the UNDP.
A detailed presentation was given by the team of UNDP on the SDG/ Localisation & Integration of India.
During the meeting, Dr Pawan Kotwal added that the biggest challenge is the shortage of manpower. While emphasizing on manpower management, Dr Pawan added that distribution of assets and creation of cadre is an important issue as far as UT Ladakh is concerned.
Briefing about the way forward for SDGs in Ladakh, Principal Secretary was apprised that the aim would be to strengthen capacities to have long term impact of policies and programmes, build partnership and generate resources to achieve the goals, track the progress of the SDGs through project and data monitoring. Besides, that the aim would also be to generate awareness and participation among all stakeholders, localise SDGs to the grassroots by integrating SDG planning from GP/VDC/VCDC level and strengthen institutional structure for achieving the SDGs.
Dr Pawan Kotwal requested the team to submit the timelines of the project and the action plan within a day so that the approval of the competent authority could be obtained and the SDGCC be set up for the UT of Ladakh at the earliest.
The meeting was attended by Preet Pal Singh, Chief Conservator of Forest, Ladakh, Srikant Suse, Deputy Commissioner /CEO, LAHDC, Leh; Santosh Sukhadeve, Deputy Commissioner /CEO, LAHDC, Kargil; Pankaj Raina, OSD to LG; Chief Planning Officers, Leh/Kargil and Deputy Directors Planning.