Ladakh Administration approves Annual Action Plans for Centrally Sponsored Schemes of Agriculture Department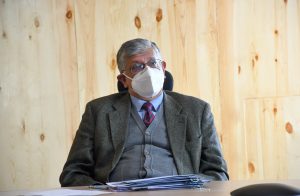 Leh, June 15: The UT Level Sanctioning Committee under the Chairmanship of Advisor Ladakh, Umang Narula approved Annual Action Plans for six Centrally Sponsored Schemes of the Agriculture Department viz., Agriculture Technology Management Agency (ATMA), Rashtriya Krishi Vikas Yojana (RKVY), National Food Security Mission (NFSM), Rainfed Area Development (RAD), and Pradhan Mantri Kisan Sinchayee Yojana (PMKSY) for the Financial Year 2022-2023.
The Annual Action Plan proposes to expand the area under cultivation by using technology like drip irrigation and the setting up of advanced testing laboratories. Under the PMKSY, the UT Administration will also provide a 60 percent subsidy to the farmers for installing Micro Irrigation Systems (MIS).
Advisor, Umang Narula gave directions to identify progressive farmers for exposure tours and training in progressive hilly states. He said that this will facilitate the farmers to interact with farmers from other regions, and learn and adopt good agricultural practices for overall development. He also stressed the importance of information dissemination in vernacular languages for the promotion of good agricultural practices among the farmers besides organizing District and UT level Krishi Melas.
Advisor Narula also directed the officials to adopt a high-efficiency irrigation system that will help in reducing the vulnerability to drought-like situations and improve the yields of crops. To achieve the vision of Carbon Neutral Ladakh, Advisor Narula asked the Agriculture Department to use solar powered lift irrigation system generated by solar photovoltaic panels as they are efficient and help reduce carbon emissions.
The Administrative Secretary of, the Agriculture Department, Ravinder Kumar apprised the Advisor about the ongoing seed replacement process to increase crop productivity. He informed that this year Ladakh yielded a production of 2300 quintals of potatoes and the department aims to increase the production of crops twice as compared to the previous year. He added that an Agriculture Census will also be conducted to gather information on land use, cropping patterns, irrigation status, etc.
Chief Agriculture Officer, Leh, Tashi Tsetan, made a detailed presentation on all the schemes viz Agriculture Technology Management Agency; Rainfed Area Development (RAD) Programme under RKVY-RAFTAAR; National Food Security Mission (Wheat, Pulses & Nutri-cereals); National Food Security Mission, Oilseed; Soil Health Component under Rashtriya Krishi Vikas Yojana (RKVY), and Per Drop More Crop (PDMC) PMKSY under RKVY.
He apprised Advisor Umang Narula about the upcoming high-quality soil testing laboratories to be established in both Leh and Kargil districts for the overall improvement of soil health. With the aim of making Ladakh completely organic by 2025, a Bio-Fertilizer production unit will also be established in both districts.
Keeping in mind the health benefits, good yield, and climate-friendly factors of Sunflower, its oil seeds will be cultivated from this year onwards. Cultivation of Nutri-cereals such as Buckwheat and Quinoa will also be promoted in the region, he added.
The meeting was also attended by the Principal Secretary, Revenue and Planning Department Dr. Pawan Kotwal; Commissioner/Secretary, PHE AK Sahu; Commissioner/Secretary, Rural Development Department Saugat Biswas; Deputy Commissioner, Kargi Santosh Sukhadeva; Director DIHAR- DRDO, Leh; Director, Horticulture Department; Associate Director SKUAST-K/HMAARI, Leh.