Labour Dept. holds awareness drive at Wakha Mulbek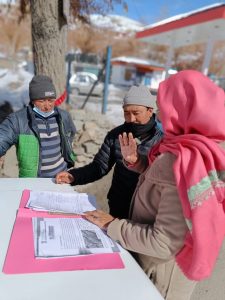 KARGIL, FEBRUARY 14, 2022: Department of Labour Kargil today conducted awareness-cum-inspection drive under Azadi Ka Amrit Mahotsov in Wakha Mulbek valley regarding registration of labourers on the e-SHRAM portal.
The team was headed by Assistant Labour Commissioner Kargil, Raziya Khatoon who called upon OC, 55RCC VIJAYAK, Satyam Kumar Rathore.
The ALS briefed the officer and officials of VIJAYAK about the registration of labourers on the e-SHRAM portal, various labour laws and welfare schemes. She emphasized on registration of labours so that they avail benefits of these schemes.
Satyam Kumar Rathore OC, 55 RCC assured full support to the Labour Department in the registration of local as well as migrant labours on the e-SHRAM portal.
Later, Khatoon also visited the labour camps and expressed satisfaction on the arrangements and facilities being provided by 55 RCC to the labourers especially during the winter months.
She also addressed Sarpanches, Panches and village representatives of Wakha valley and explained in detail about the various welfare schemes for labourers, process of registration and laws for the protection of labour rights.
The ALC also visited several construction sites and interacted with labours and enquired about their labour registration card and availing of any scheme from the department.
She observed that majority of them were registered and availing benefits from the labour welfare schemes provided by the department.