KVK Kargil organizes national campaign on Poshan Abhiyan and tree plantation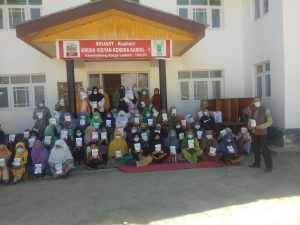 KARGIL, SEPTEMBER 17, 2021: Krishi Vigyan Kendra (KVK) Kargil-1 organized national campaign on Poshan Abhiyan and tree plantation at KVK Kargil-1, Khurbathang Kargil here today.
Chairperson Block Development Council Shargole Tsering Nurboo, Dr Faizan Senior Scientist and Head MAR&ES, Kargil, Dr Najimana Scientist MAR&ES, scientific and technical staff of KVK Kargil-1 and a large number of farmers from the nearby villages participated in the programme.
The programme started with a lecture on importance of plantation in Kargil district, followed by the virtual/online session conducted by ICAR.
This was followed by a series of lectures on significance and importance of nutria-cereals in human health, ways for development of nutria-gardens in Kargil, importance and role of plantation on sustainable agriculture and rural livelihood in Ladakh region, and cereals and pulses in balanced diet.
Dr Muhammad Mehdi, Professor and Head KVK Kargil -1 in his address stressed upon the participants to make efficient utilization of the resources which nature has bestowed this place with. These resources are not fully utilized due to lack of knowledge which has resulted into loss of natural bio-diversity in the region affecting negatively the health and quality of life of humans as well as livestock.
He stressed upon building of strong linkage between the public and scientific institutions which is possible through use of modern tools like social media, radio talks as well as frequent visits to KVK and other agricultural farms.
The Chairperson BDC Shargole Tsering Norboo in his concluding remarks appreciated the role and work of KVK and conveyed gratitude one behalf of the people of his constituency towards the Kendra for their active and scientific contribution towards socio-economic upliftment of the tribal people.
The programme concluded with seed distribution and vote of thanks to all the participants followed by visit to KVK farm and winter vegetable nursery sowing method.