Justice Tashi Rabstan conducts meeting with officers of District Administration, members of Bar Association in Kargil Stresses on expeditious completion of formalities for construction of New Court Complex, holding of awareness programmes about fundamental rights, welfare schemes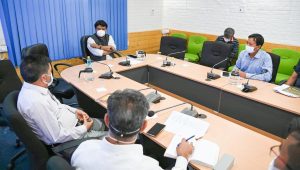 KARGIL, JULY 17, 2021: During his official visit to Ladakh, Judge Common High Court of Jammu Kashmir and Ladakh Justice Tashi Rabstan held a meeting with the Additional Deputy Commissioner (ADC) Kargil Tsering Motup and the members of the Bar Association Kargil here on Friday.
During the course of the meeting, Justice Tashi Rabstan directed the ADC Kargil to expeditiously complete the formalities for the construction of New Court Complex at Kurbathang Kargil.
Later, the Judge Common High Court of Jammu Kashmir and Ladakh also held a meeting with the President Bar Association Kargil Advocate Khadim Hussain and other bar members who apprised him about various difficulties being faced by them like the non-availability of APPs in the peripheral court of the district, establishment of Consumer Forum/Council and various other allied issues.
Justice Tashi Rabstan impressed upon the Judicial officers to conduct various programmes, for educating general masses about the cherished principles enshrined in the Constitution of India such as Fundamental Rights and Directive Principles of the State Policy, and various welfare schemes of the state particularly the schemes related to the marginalized, underprivileged and downtrodden sections of the society.