Health Dept Khaltse observes Anti Leprosy Day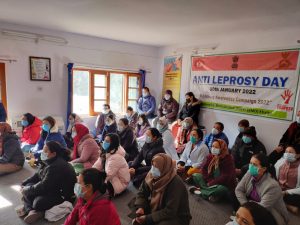 Leh, Jan 30: Health Department Khaltse headed by Block Medical Officer (BMO), Khaltse, Dr Chamba Laskit organised Sparsh Leprosy Awareness Campaign on the occasion of Anti Leprosy Day at Community Health Centre (CHC), Khaltse.
The objective of the campaign was to spread awareness on Leprosy and the importance of early detection of Leprosy cases and the treatment and preventive measures. It also focused on promoting community participation in the said campaign to achieve better results.
BMO Khaltse directed all the paramedical staff of the sub-centre to conduct Sparsh Leprosy Awareness Campaign surveys in their respective areas and submit a report at the earliest.
Doctors and all the staff of Health Department Khaltse block were present during the event.