GMDC Zanskar celebrates World Earth Day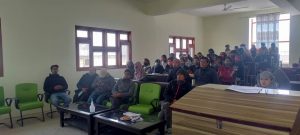 KARGIL: APRIL 22, 2022: Government Model Degree College Zanskar in collaboration with Wildlife Conservancy Trust India today celebrated World Earth Day at the college premises.
Kirti Chavan, K. C Namgyal and Kalsang Chospel conducted an awareness workshop on threats of garbage to the environment and general wellbeing of the people.
The session started with the screening of a short documentary on how mass tourism has caused pollution in many eco-sensitive destinations across the Himalayas.
An interaction session was also held with the students who gave feedback regarding problems of solid waste disposal being anticipated because of increasing tourist inflow in the future.
Program proceedings were conducted by Dr Abdul Hamid, assistant professor of Environmental Science. He highlighted the theme of the program and introduced the speaker to the audience.
Muhammad Ishaq, senior assistant professor in his concluding remarks stressed on importance of organizing such interactions for the benefits of students and faculties.
He advised the students to play their role to keep the environment clean and green. Around 80 students and faculty members participated in the program.
Later, a plantation drive was also held in the campus in which students and faculty members participated.