GDC Khaltse, Nubra celebrates 8th Int'l Yoga Day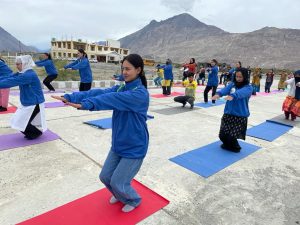 Leh, June 21: The 8th International Day of Yoga was celebrated in Government Degree Colleges of Khaltse and Nubra with the enthusiastic participation of students, faculty and non-teaching staff of the college. 'Yoga for Humanity' is the theme for this year.
GDC Khaltse organised the event in collaboration with the administration of the Subdivision of Khaltse.
Councillor Khaltse, Lobzang Sherab was the chief guest for the occasion. Sub-Divisional Magistrate, Khaltse; Sarpanch Khaltse; Principal, GDC Khaltse; HoDs of various departments, students of Govt Higher Secondary School Khaltse; students and staff of GDC Khaltse attended the event.
Chief guest Lobzang Sherab spoke about the importance of yoga in daily life. He also advised students to participate in various co-curricular activities along with academics.
At GDC Nubra, Principal Dr Tsewang Motup briefed about the benefits of yogic exercises on the health of an individual and advised to practice them for the physical, mental and emotional well-being of an individual.
Different types of yoga asanas, including Tadasana, Padma Asana, Sarvanga Asana, Katishakti Vikasak, Sama Sthiti, Vrksasana, Bhadrasana, Sasankasana, Bhujangasana, Kapalbati, Pranayama, Dhyna, Sankalpa and meditation etc. were performed at both the Govt Degree Colleges on the occasion.