GDC Kargil organizes webinar on Intellectual Property Rights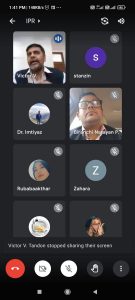 KARGIL, DECEMBER 15, 2021: The Department of Economics, Government Degree College Kargil yesterday organized a webinar on Intellectual Property Rights (IPRs) as part of Swachhata Pakhwada campaign.
The guests on the occasion were Dr Biranchi Narayan P. Panda, Assistant Professor, Law, Xavier Law School, XIM University, Bhubaneswar, India and Dr Victor Vaibhav Tandon Advocate and Patent Agent, Saikrishna and Associates from New Delhi.
The programme started with an introduction to the topic and proceedings to the audience by Dr Syed Yassen Programme Convenor, Department of Economics. It was followed by a welcome address by Stanzin Norphail, Assistant Professor Department of Commerce.
On the occasion, Dr Biranchi Narayan P. Panda highlighted the basics of IPRs and how the knowledge and ideas of a human mind can be protected through legal means.
He said intellectual properties are just like any other physical property but these are related to creation or invention resulting from an intellectual activity like writing a book, musical work, movie, software, design of a car, inventions of different scientific materials.
Dr Victor Vaibhav Tandon explained the topic in detail and maintained that high technological products, new medicines, designs, recordings are bought and sold because of the information they contain.
He said the creators are given the rights to prevent others from using their inventions, creations and designs for commercial purposes.
Dr Victor said there is a need for complete awareness about the patent and other intellectual property rights in order to prevent the misuse of these rights.
He also explained to the audience about procedures for registering a patent or copyrights.
The webinar was followed by a panel discussion during which the resource persons answered the questions highlighted by the audience. The students highly appreciated the programme.
The program concluded with a vote of thanks by Dr Imtiyaz Hussain, Department of Botany. He also appreciated the speakers for fruitful discussion on this important topic.