First meeting of State Project Implementation Unit under National Seismic Risk Mitigation Programme held in Ladakh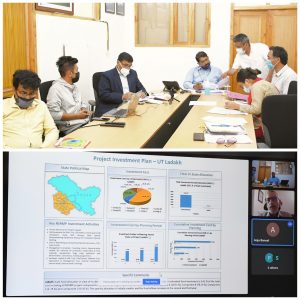 Leh, July 20: Secretary, Disaster Management, Relief, Rehabilitation and Reconstruction, UT Ladakh, Saugat Biswas chaired a meeting with the members of State Project Implementation Unit (SPIU) under National Seismic Risk Mitigation Programme NSRMP, today at the UT Secretariat.
The meeting discussed the finalization of the draft Project Investment Plan (PIP) under NSRMP for UT Ladakh.
A detailed presentation of the draft (PIP) under NSRMP was presented by the State Coordinator DDF- AKDM JV.
The team discussed the draft Proposal Investment Plan for finalization for enhancing overall earthquake preparedness through designing and establishing an earthquake dissemination system and enhancing the emergency responses capacity of the administration of UT Ladakh.
The team discussed project-wise cost components to enhance emergency response capacity, capacity building of local communities, retro-fitting building of critical infrastructure, retrofitting/ roads, bridges, helipads etc. building a state of art technological demonstration unit.
It was informed that the Proposal Investment Plan (PIP) for entire project is spanned over a period of 3 years for 3 states and 2 UTs considered in part II under NMDA.
Raised allocations for emergency response capacity for procurement of adequate search and rescue equipment and machinery for decentralization of various tehsils and blocks of UT Ladakh.
For retrofitting roads, bridges and helipads for enhancing emergency retro capacity in case of disaster were decided upon.
The meeting was attended by Prakash Chander Tanosh, Chief Engineer, PW (R&B) Department; Amit Singh Chandel, Director Accounts & Treasuries; Stanzin Donsal, Senior Accounts Officer; Dorjey Angchuk, Nodal Officer, NSRMP-NDMA and Kumar Amit, Technical Consultant, IT. Besides, Prof. Amitava Ghosh, State Coordinator, DDF-AKDN; Anju Bansal, Team member, DDF-AKDN; Sudhir Malik, Head Finance, DDF-AKDN and Abhijit, Head Purchase, DDF-AKDN also attended the meeting.